Okay, so today during the second day of hell week for the spring drama: "Grapes of Wrath" someone decided to extinguish the green room. That's right, they took a fire extinguisher and went loose on the green room. Now, I don't think there intentions were malicious. I think they were just messing around with the extinguisher and it just got out of hand (see below). When I first heard about it on the headset I thought it was just a small little squirt in the green room that could be wiped up, no big deal. But then at the end of the rehearsal Ms. Z made this big speech about how the whole drama was "sabotaged" and that how there might not be a weekend show and that we should not show up for day three of hell week or Thursday's preview night because the fumes would have to be cleaned out and cleared in the green room before the show could go on for our safety and all.
Personally, I think this could not be true and the play will be back on this weekend but I really hope that it's not because (1) I'm not yet done with the credits and (2) I really would like a free weekend. But don't get me wrong, its' really bad and some people were really sad about it all (especially some of the female actors) and I hope it all turns out okay but .... you know ... things happen.
Moving along to much more sweet and happy news. As my blog readers know, I've been developing a script for a
Red Robot
music video off their song "Half A Man." Today I handed out a first draft to the band and I'm starting on storyboards now that I eventually hope I will be able to put together as a whole "storyboard animation" playing along with the music so the band could really understand how I won't this video to be made.
Also, over the passed two days Whoopi has really been implanting the idea in my head of using a high-end/professional camera. He's inspired me not only to find a great camera, but to also to make this whole video as professional as I can, which means official scripts, meeting with the band, storyboard animation, hopefully production photos and maybe a casting call for "The Swan" (more on that in the future). So part of being professional was using professional equipment. Ergo, a professional camera. So I went onto the TFN boards where I usually pose most of my Visual Effects/Post Production questions and I asked this:
And I got links from people on the boards and I thought I found a pretty good deal to rent out a Panasonic HVX200 for around $350 for two days. But then this happened:
So I messaged
detfilms
, asking him if he really was that kind enough to let us borrow his awesome camera and he said:
And now we are set to film with this sweet,
sweet thing!
: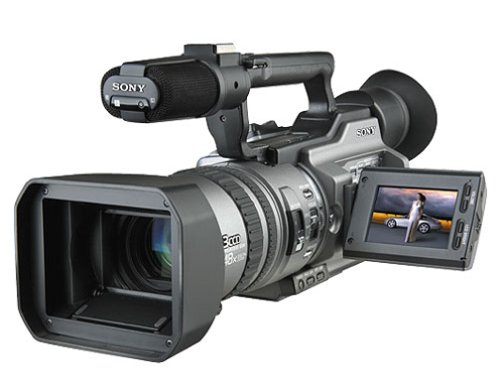 Also, the guitar hero tournament started today:
Peace